Description
| | |
| --- | --- |
| Weight | 0.3 lbs / ft |
| Dimensions | 0.5in X 0.5in |
| Base Length | 12ft |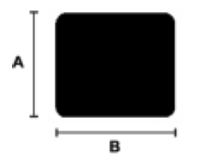 General Properties and Applications
Aluminum square bars are a core component of many structural parts. Their shape is perfect for a wide variety of uses; they are often used for walkways, platforms, cover plates, trench covers, and truck runways.  
6061-T6 Aluminum square bars are also great alternatives to the use of heavier metals like steel since aluminum is incredibly lightweight. Additionally, aluminum is highly corrosion-resistant, and 6061 aluminum is especially versatile and heat-treatable.
Aluminum itself is a lightweight and conductive metal that is non-toxic and does not affect the taste of food or drink. It's often used in a range of decorative and functional applications. Aluminum is commonly alloyed with copper, manganese, silicon, magnesium, and zinc for further hardness and durability.
Principal Uses:
Driveshafts
Aerospace applications
Couplings
Marine applications