Description
| | |
| --- | --- |
| Weight | 0.569 lbs / ft |
| Dimensions | 2.5in X 1.5in X 0.125in |
| Base Lengths | 20ft |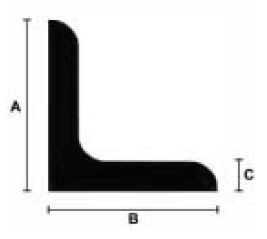 General Properties and Applications
Forming a perfect 90-degree angle, aluminum angles are used in two primary ways: structural support and general fabrication. Due to aluminum's properties, aluminum angles are often used anywhere that additional structural support is needed. They're also light, making them a natural choice for supporting a structure when weight is a concern.
6063-T5 Aluminum Angles are often used specifically for architecture purposes. This is mainly due to the grade of aluminum, 6063, possessing relatively high tensile properties, excellent finish characteristics and high corrosion resistance. 6063-T5 Aluminum angles are frequently a common choice for mouldings and extruded trim both for interiors and exteriors.
Aluminum itself is a lightweight and conductive metal that is non-toxic and does not affect the taste of food or drink. It is used in a range of decorative and functional applications. Commonly alloyed with copper, manganese, silicon, magnesium, and zinc for further hardness and durability.
Principal Uses:
Kitchen equipment
Window frames
General cast components