Description
| | |
| --- | --- |
| Weight | 0.352 lbs / ft |
| Dimensions | 1.25in X  1.25in X 0.125in |
| Base Lengths | 20ft, 25ft |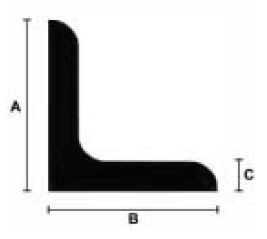 General Properties and Applications
Forming a perfect 90–degree angle, aluminum angles are used in two primary ways: structural support and general fabrication. Due to aluminum's properties, aluminum angles are often used anywhere that additional structural support is needed. They're also light, making them a natural choice for supporting a structure when weight is a concern. 
6061-T6 Aluminum Angles are often used specifically for the bodies and frame of trucks, running boards, walkways, floors, platforms, and just about any structural application. 
Aluminum itself is a lightweight and conductive metal that is non-toxic and does not affect the taste of food or drink. It is used in a range of decorative and functional applications. It's commonly alloyed with copper, manganese, silicon, magnesium, and zinc for further hardness and durability. 
Principal Uses:
Kitchen equipment
Window frames
General cast components