Description
| | |
| --- | --- |
| Weight | 1.6787 lbs / ft |
| Dimensions | 1.75in X 0.95in |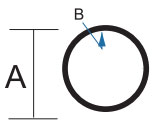 General Properties and Applications
Drawn-over-mandrel tubing – DOM tubing is made from a cold-drawn electrical-resistance-welded tube that is drawn through a die and over a mandrel to create such characteristics as dimensional accuracy, dependable weld integrity, and an excellent surface finish. Also, this type of tubing is very cost-effective. Furthermore, the close tolerance of the tube can be used for mechanical parts with little to no downstream processing.
The Many Purposes of DOM Tubing
Drawn Over Mandrel tubing is used for a variety of applications and industries. The tubing is used for machinery, hydraulics, motorcycle frames, and bearings. Of course, these are just a few examples of what it is used for.  This type of tubing creates a seamless connection, unlike a welded tube. Because of this, DOM is usually chosen over welded tube where high pressure or large workloads are needed.
Being sturdy and reliable, this tubing is often used in automotive parts, race car frames, motorcycle frames, and farming equipment. Drawn Over Mandrel tubing is available in many different sizes and specifications. The industrial tubing is used for a wide range of bushing and structural applications.
When it comes down to a DOM tubing supplier, your number one choice is Detroit Nipple Works. Also, we meet all requirements of the tubing such as ASTM Specification A513 with a high degree of wall uniformity. In addition, we have a large selection of sizes to choose from.